Podcast: Play in new window | Download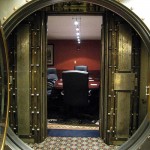 Get secure with SSL.
News/Follow-Ups – 01:12
Geek Tools – 03:44
Square – Dead simple credit card payments
Webapps – 09:03
Divvyus – Organize tasks for your party and let people choose what to do
Codeboff – Programming tests for prospective candidates
SSL – 16:33
What is SSL?

Encrypt network segments end-to-end
Actually TLS, SSL was discontinued but is still used for the name

Where did it come from?

Based on the SSL specification from Netscape in 1995

So what is the SSLs job?

Provide identity
Provide encryption end-to-end
Not used to protect the transaction between the buyer and the seller

Why would I need one?

Internet and plain text
Sensitive information

Why do I have to pay for it?

Completely automated verification
Verification
Extended verification

How do I do it?
Types of SSL certificates
Can I get a free one?